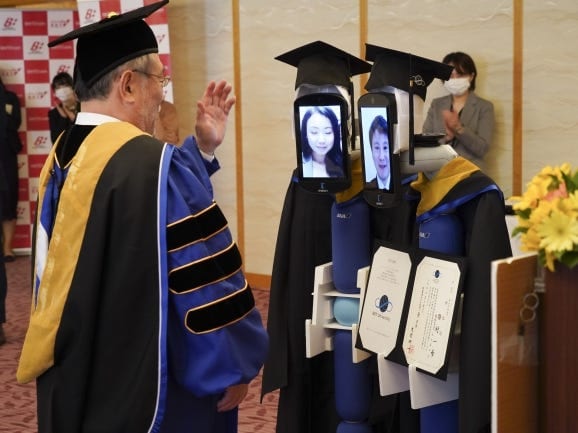 Japanese University used remote-controlled robots to conduct their graduation ceremony
A Japanese university has found an innovative solution to conduct a graduation ceremony safely amidst the Covid-19 outbreak. Instead, four graduates from two departments remotely operated "newme" robots via Zoom, which accepted their certificates on behalf of the graduating cohort.
Digital tablets were attached to the heads of the robots, showing the faces of students who was then able to participate the graduation ceremony remotely. The avatars can be seen queuing up to receive their certificate from the president of the university, Omae Kenichi.
Business Breakthrough University (BBT) in japan held an online graduation ceremony for robots this year through robots.#COVIDー19
#COVID
#CoronaAlert pic.twitter.com/CDTlIH9tfj

— KNIN カニン, タイ人です。🇹🇭 (@kninsama) April 2, 2020
Despite the unusual circumstances, the ceremony was conducted as traditionally as possible, with the University's president giving an address. However original our ways of using technology to bridge the gap between social functions amid social distancing and COVID-19, one could say: the more we do it, the more technological mediation itself takes centre-stage in our lives.