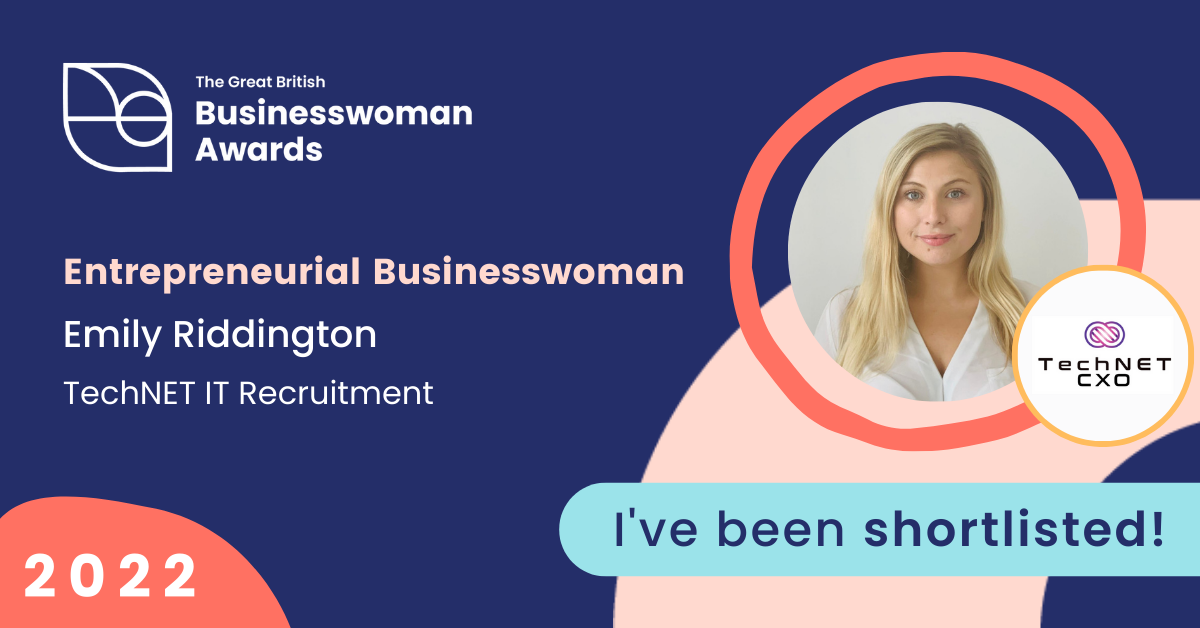 Associate Director Emily Riddington is a Great British Businesswoman Awards finalist!
Associate Director Emily Riddington is a finalist in The Great British Businesswoman Awards for 2022 – a huge achievement for herself and her team!
The Great British Businesswoman Awards was created to:
Recognise, celebrate and support women in business, champion their peers and advocates, and help foster the next generation of female business leaders."
Emily has been considered for the Entrepreneurial Businesswoman category, and the winner will show clear evidence of growth, leadership, and entrepreneurial success within their business, and be able to evidence how they have achieved it.
With a fascinating entrepreneurial business story, Emily has shared her career story with the judges at The Great British Businesswoman Awards, including the story of how she started her career with TechNET IT, and her advancement into Executive Search and forming TechNET CxO over the years.
Emily joined TechNET IT back in 2015 and has since received seven promotions – with her most recent promotion taking her to Associate Director level. Impressively, Emily is also a player coach, managing a small team of talented 360 recruiters.
We are so grateful to have such a talented and integral member of the team. At long last Emily have been given the opportunity to showcase her impressive recruitment journey and hopefully inspire others with her story!
With more insight to come, you can check out the shortlisting today.
We would like to congratulate the other inspirational women who have been considered across all of the categories, and we look forward to joining them at the awards evening in November.
Keep your fingers crossed for Emily!
---
If you're interested in working with other talented recruiters like Emily, you can get in touch with our Internal Talent Manager Grainne Simpson, or check out our careers page instead.