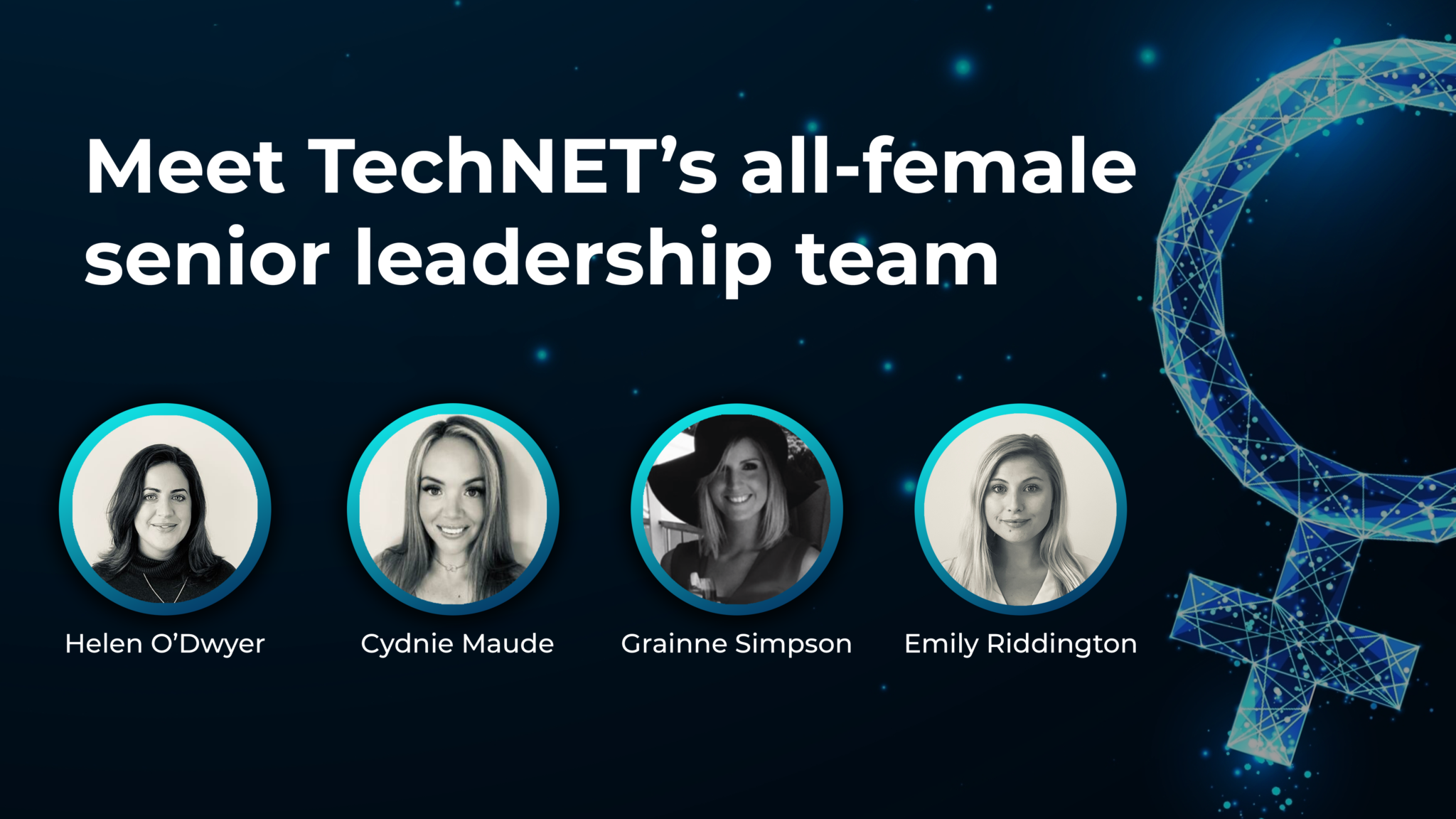 Meet TechNET's all-female senior leadership team
In support of International Women's Day, we wanted to shout about one of our biggest assets – our all-female senior leadership team!
Although we pride ourselves for opening up diverse and progressive opportunities for our consultants, collectively the senior leadership team have worked extremely hard to earn their positions and are now serving as role models for other women in our business, and those to come.
We wanted to share their success stories in order to inspire other like-minded women in the industry.
Introducing…
Helen O'Dwyer – Our Head of Client Services
Helen has been with TechNET from the very start of her recruitment career – 5 years to be exact! Thanks to her impressive work ethic, Helen has worked her way up from an entry-level Recruitment Consultant role to an Associate Director that heads up the Client Services team.
Helen explains in more detail:
My journey to becoming a leader in tech recruitment has been both challenging and rewarding. As the first-ever female manager at TechNET, I have been endlessly supported and encouraged to learn and grow. Looking back, I hardly recognise myself from the uncertain, somewhat clueless, yet endlessly ambitious girl who walked into that interview almost six years ago.

My mission is to support the development of the next generation of female leaders within the business. Collaborating with Emily, we have developed what I believe to be the best training program in the industry. We have already supported some incredible recruiters to build their careers here, and we have no plans to slow the growth anytime soon."
Emily Riddington-Smith – Our Head of Search and Senior Appointments
After joining the TechNET team in 2015, Emily gained a well-rounded wealth of experience across a variety of tech specialisms.
She quickly discovered a passion for Executive Search, which motivated her to build our sister brand TechNET CxO in 2019 shortly after returning from maternity leave. Her hard work certainly paid off as we are proud to say that she built the most successful 360 team that TechNET has ever had.
Fast-forward to recent years, her latest achievements include leading and training a team of eight talented consultants and becoming TechNET's Top Biller for 2022 – which was a personal goal of hers.
Cydnie Maude – Our Senior Business Development Manager
Cydnie's success can be attributed to her ability to build strong relationships with clients, communicate effectively and stay ahead of the competition through data-driven insights and adaptability. Cyd continuously excels with her unique approach to Business Development and knowledge within the industry.
Alongside her proven career success, Cydnie is TechNET's ray of positivity; she even has a tag line – "Believe and receive" that she uses as motivation for herself and the rest of the team during challenging moments.
Joining the Business Development team in 2021 meant making the difficult decision to return to work after maternity leave. Although this was a challenging transition as you may expect, Cydnie is thriving, and we can confidently say she has had a big influence on the success of TechNET and bringing on some of our biggest clients yet.
Grainne Simpson – Our Internal Talent Manager
Grainne is our Internal Talent Manager and joined us in 2021 after returning from maternity leave.
She primarily focuses on developing and implementing strategies that attract and retain top talent, with 2022 proving to be one of her best year's yet after reaching 150% of her 2022 hiring target and introducing 36 heads to the team!
She has successfully built our 12-week onboarding process which includes the introduction of learning and management styles to ensure every new employee receives a tailored approach to the training programme. Grainne also heads up our 'people function' where wellbeing, culture and D&I is at the top of her agenda so that every employee feels valued and supported.
To top it off, Grainne is also studying a CIPD Level 5 in Organisational Learning and Development in order to develop her current skills and experience.
Why it matters
We hope you enjoyed getting to know our all-female senior leadership team a little better. We believe it is important for all businesses to have female leaders in influential positions as they have the power to change traditional workplace measures that prioritise men, such as the gender pay gap.
Unfortunately, women leaders are still underrepresented in comparison to men, with women taking up only 30% of management roles in the UK. To combat this, we project to have a 40% female board by the end of 2023, and a 50% female board by 2024 – make sure to keep track of our progress on the blog!
Join the team
We are always striving to hire a more diverse workforce, and we are glad to report that by having more female leadership, we are able to do just that.
If you're looking to join a progressive and talented team of individuals, please get in touch today.