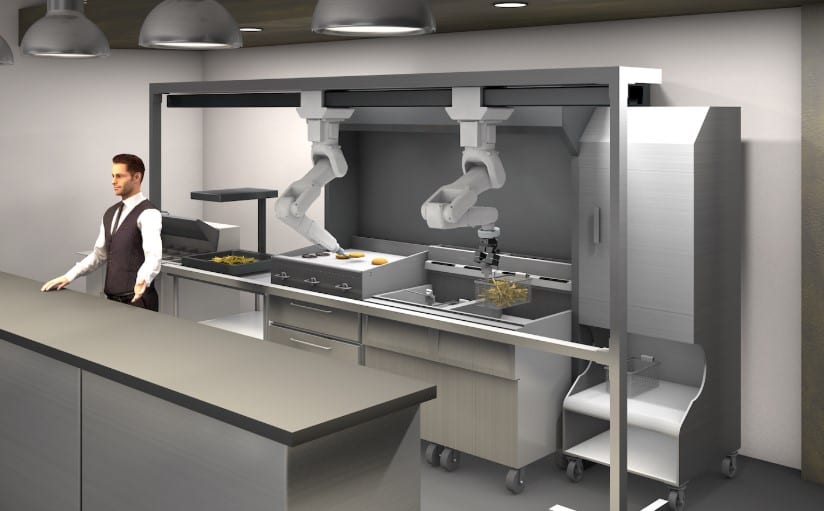 "Flippy" The Robotic Arm Has Undergone Redesign
The robotic fry cook hit the headlines in 2018 when it demonstrated its ability to fry burgers and prep French fries. Miso Robotics, the company behind "flippy", has given the robotic arm a design revamp, making it easier for installation.
Instead of being planted in the kitchen, the robotic arm now slots under the hood above the fry station – saving space and improving its efficiency.
"This can go into 80% of kitchens," says Sinnet. "We designed this whole system to generalize what it means to cook in a kitchen."
The rise of automation, however, isn't free of criticism. Some people are expressing concerns with the rise of automation and the kind of impact it will have in the labour market. With figures like Andrew Young, running candidate for the Democratic party who has based much of his campaigns on the concern of automation, speaking about how it could disrupt certain job sectors.
Despite these concerns, it hasn't stopped the company from receiving over 1 million reservations, and big brands like McDonalds and Burger king have been showing a keen interest. The goal is to offer the robot for free and charge restaurants a fee for the use of the robot, according to Sinnet.
The company is hoping to utilize the 1 billion views its promotion videos has gained to pitch a crowdfunding campaign through Seedinvest.