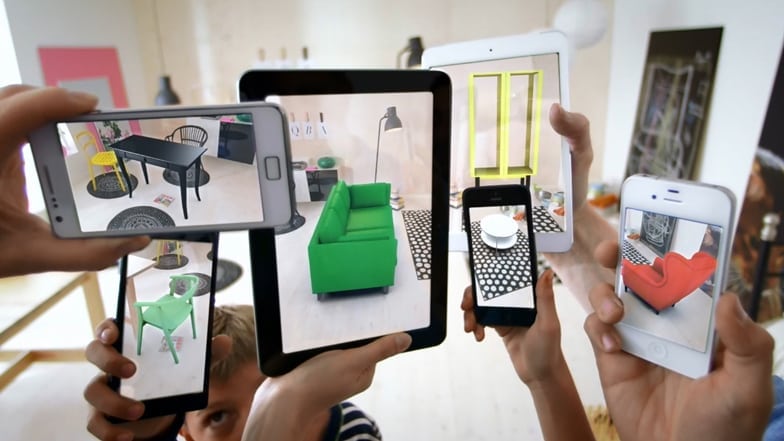 5 Powerful Real-World Applications of Augmented Reality
ARKit was launched by Apple, and Google released ARCore for Android, both powerful tools for developers to create augmented reality apps. It is predicted that there will be 1 billion augmented reality users by 2020.

What is augmented reality (AR)?
AR is technology that overlays information and virtual objects on real-world scenes in real-time. It uses the current environment and adds information to it to make a new artificial environment. Using American football as an example if you have been watching the sport since 1998 you would have noticed the yellow line that moves up and down the field when watching this on TV this is an example of an augmented reality application.
Award-winning airport app –
Gatwick airport passenger app has won a number of awards for its clever use of augmented reality. Passengers are able to use the AR Map from their mobile phone/tablet to help them make their way through the airport. As the app develops it may eventually help improve the flow of traffic in the airport also.
IKEA Place and Dulux Visualiser –
At least once in your life time you'll of bought furniture to discover once it Had been delivered that it doesn't fit in the area you had planned, well now there is a 'IKEA Place App' that will help you resolve that problem. The app was built using apples ARKit technology, and this works by allowing your room to be scanned and design the space by adding the IKEA furniture in the digital photo of your room to create a new area with the products.
The Dulux visualiser allows you to try out different paints for your room before you go ahead and purchase but then to find out you don't actually like the colour, which saves time and money. Again to do this all you need is scan your room using your mobile phone camera then you can paint it with any colour you wish.
Sephora Virtual Artist and Rolex –
The cosmetic company Sephora uses Augmented Reality to let their customers try out different eye, lips and cheek products as well as different colours and shades right on their digital face. This is a great way to improve sales. Also Rolex is another company that uses AR Technology to inspire purchases, Rolex developed a virtual try-on experience where customers can try on different styles and models before buying.