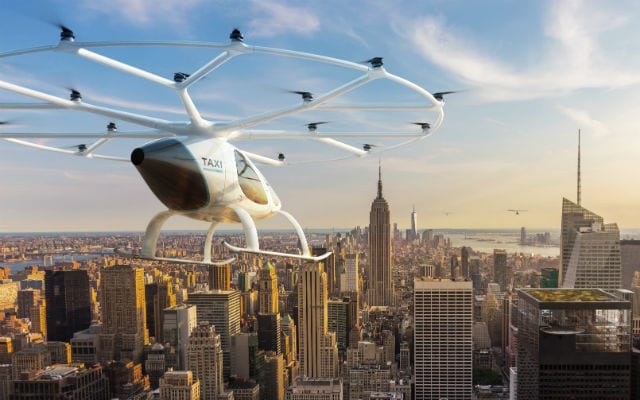 A German Aviation firm, Volocopter air taxi service, was showcased at the Auto Expo 2020
The company conducted test flights in Singapore back in 2019 with the support of the government. Although, the city-state does not suffer from major congestions, it was still seen as a perfect base to test the technology thanks to the city's openness to innovation.
Resembling a helicopter, Volocopter's electric air taxis take off and land vertically from its specified designated landing pods. It uses drone technology and can fly two people for around 19 miles and can be flown either automatically or by a pilot
More people than ever are now living in urban than rural areas. This has meant traffic congestions is a growing problem and is often a difficult task for the government to seek solutions, which often leads to more roads being built – further destroying the environment. The Volocopter, however, is presented as a viable solution to this problem by delivering an alternative means of transportation that is faster, safer, and emission free.
"The Volocopter is designed specifically for inner city missions," Volocopter said in a statement, adding it can withstand minor turbulence around skyscrapers, allowing for smooth rides. "It is so quiet that at a flight height of 100 metres (330 feet), it cannot be heard over the typical background noise of a city."
Volocopter has also stated that they regularly performed public demonstration flights in Germany and has received a Design Organisation Approval from the European Aviation Safety Agency (EASA), as it makes progress towards certification and commercial deployment.