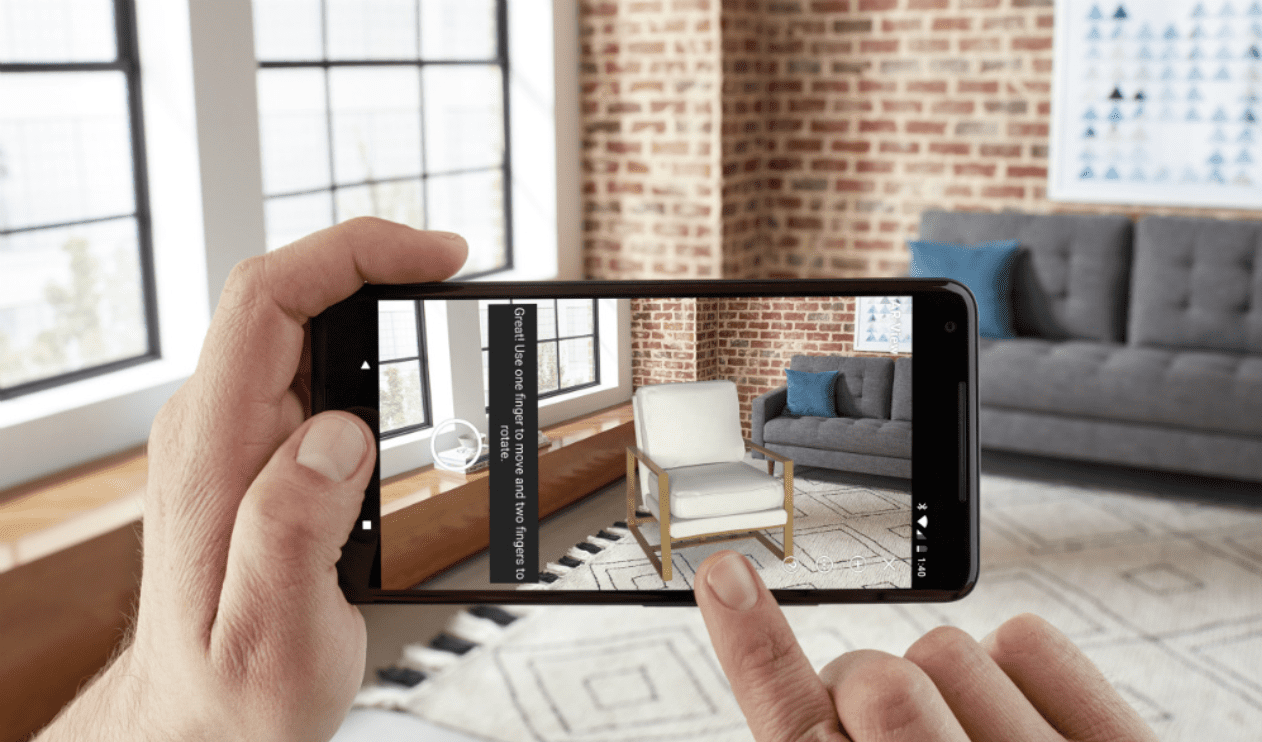 5 Ways AR Will Change Your Life
Augmented reality (AR) has evolved over the past few years to become an instrumental tool in the success of many tech-forward industries. Those who choose to adopt AR technology, whether business or individual, are recognising its many benefits. In this article we're highlighting 5 ways you too can start utilising AR technology.
Mobile AR
A major benefit to AR's advancement is its ability to be deployed on mobile phones and tablets. Without the need for a headset, AR is much more accessible to the average person. With the technology now being built right into newer smartphone models, widespread adoption of AR is easier and more affordable. Moving forward, AR will be used to improve personalisation of mobile apps. It will be able to offer virtual services based on individual's behaviours and preferences.  
AR in marketing
As consumers demand for personalised experiences increases, brands are looking to AR technology to meet their customers' needs. Utilising AR within marketing campaigns will allow brands to offer each customer personal experiences in advertising resulting in greater engagement and increasing brand recognition.
Retail and home improvement businesses in particular are finding great success with AR technology. They can offer consumers an entirely new way to experience products in a "try it before you buy it" sense. Using AR applications such as IKEA Place and Lowes Vision, shoppers can virtually visualise what a piece of furniture or remodel would like in their own home.
AR in healthcare
AR is serving as one of the more recent tools positively impacting healthcare practices through the invention of telemedicine. Using AR technology, patients can receive medical consultations or physical therapy instructions wherever they are, eliminating the need for a trip to a medical office.
Training for medical professionals is also improving through the use of AR training simulators. Trainees utilise this software to fully immerse themselves in a virtual environment designed to replicate real-world scenarios. Recreating high-stress situations helps users develop necessary skills before entering the field.
Social AR
AR has worked its way into social media, largely due to Snapchat's adoption of the technology into its platform. This allows users to bring their posts to life through AR filters and lenses, play games via AR selfies, and even shop. Instagram and Facebook are also jumping on the AR bandwagon in hopes of enhancing users' experiences. Facebook recently introduced a tool for developers known as Facebook AR Studios, enabling users to build their own interactive Facebook camera experiences.
AR for fitness
AR fitness applications such as RunSocial are adding a bit of fun to your typical run. Users of the app choose an avatar, hope on the treadmill and select a desired running trail from around the world. Placing you virtually anywhere you want to be, from a peaceful trail on the Swiss Alps to being cheered on in the NYC marathon.  
For those who prefer exercising outdoors, Solos AR sunglasses paired with the Solos smartphone app provide real-time data on your workout. Allowing users to view their heart rate, pace, distance, and more without ever taking their eyes of the road. The glasses can utilise the gathered data to map out an individual a training plan for those who are looking to meet specific workout goals.
---
Author Bio: Maddie Davis is co-founder of Enlightened Digital and a tech-obsessed female from the Big Apple. She lives by building and redesigning websites and running marathons.